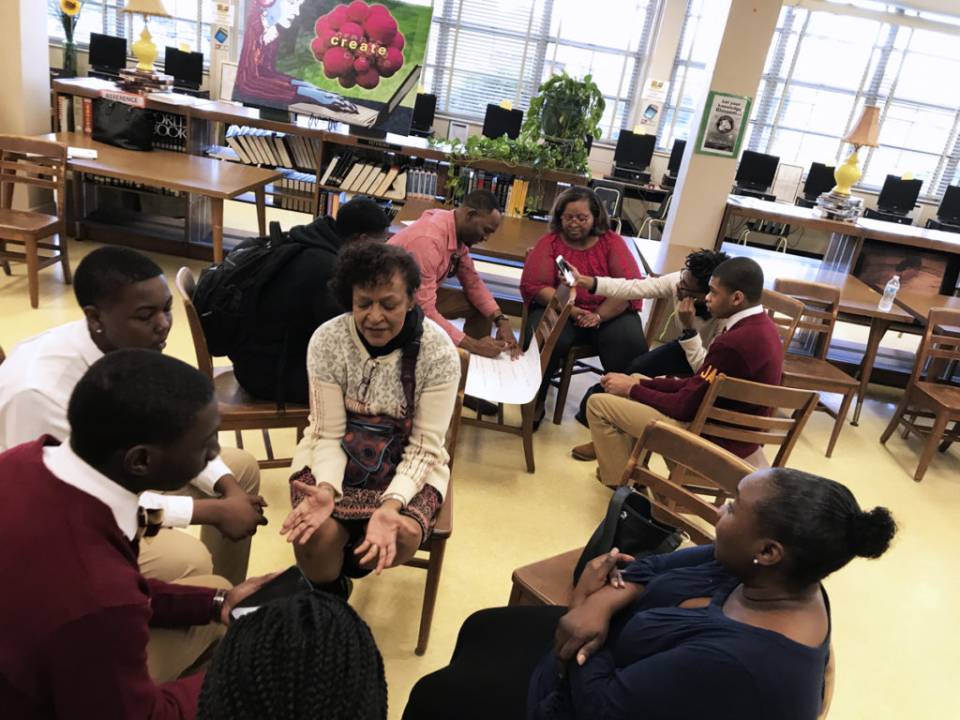 The Mississippi Youth Media Project started holding public dialogue circles in the Jackson community in early 2018 to collect potential solutions for crime and violence in the area. Dozens of local residents, from teenagers to elected officials, have brainstormed together for possible answers to several questions while sitting in circles with equal voices, as well as on questionnaires filled out at YMP events. So far, the town-hall dialogues have happened at Jim Hill High School, Wingfield High School and The Boys & Girls Club, with the next one on Aug. 1 at Walton Elementary. The participants then reported their potential solutions to the full group and ended with each person pledging an action to reduce crime and violence.
Previous potential solutions are grouped below under specific questions that teenage moderators posed to the participants. Add your voices at the next YMP Town Hall, dedicated to the memory of Cedric Willis, on Thursday, Aug. 1, from 6 to 8 p.m. at Walton Elementary, 3200 Bailey Ave. in Jackson. We'll provide snacks and drinks. Please join us and help us prevent crime and violence. The information we are collecting will be turned into actionable items at a future public YMP Crime Summit. (You can also comment or add your potential solutions in the comments below.)
School-to-Prison Pipeline
How can we stop the school-to-prison pipeline and stop school discipline that feeds into it?
Resources or scholarship programs that are attractive to students and available at other schools.
Increase student motivation.
Think outside the box in terms of disciplinary offenses.
Decrease truancy rates.
Show students that the community cares about them.
Provide internship and employment opportunities for fields in which students have an interest or those in which students have experience.
Mentorship programs (i.e. Big Brothers Big Sisters).
Allow teachers to be more available for academic support.
Eliminate the narrative of teachers being an enemy or adversary.
Teach students to write grants so they can better access resources.
Ask students what they want to get out of school. Then follow up with a form of guidance to ensure they reach their goals.
Vocational programs.
Opportunities for students to be heard and have their emotional needs met.
Repair the bond between parents and schools.
Provide students with safe havens after school with tutoring and mentoring opportunities.
Gun Violence
How can young people and adults work together to reduce gun violence and gun availability in the Jackson area?
Raise the minimum age to purchase a firearm to 21 years old.
Talk with someone they respect about the effects of guns.
Provide conflict-resolution classes.
Place a ban on assault rifles.
Only armed forces should have guns.
Eliminate music featuring violent behaviors.
Bring about a religious awakening.
Have teachers talk about gun safety.
Activism.
Parents need to accept their responsibility of teaching their children the repercussions guns may have.
Eliminate lax gun laws by contacting legislators and insisting on stricter gun restrictions.
Move people who have been involved in gun-related crimes away from the "snitch" mentality, and move them toward being a witness against those causing harm
Show people they can be against guns, but they also have to understand a need for protection. Get both sides to understand one another.
Buy guns back.
Background checks.
Educate students on gun safety early on.
Teachers should not be allowed to have guns in classrooms.
Take drugs off of the streets. This includes weed, as this can cause paranoia.
Are there too many guns to regulate? It may be too little, too late to do anything.
Pour money into mental-health and social programs.
Help veterans by trying to alleviate their PTSD.
Students Suspensions
How can we help young people in Jackson have more positive things to do specifically during suspensions?
Jackson Public Schools should work with the City of Jackson to create projects so that when kids are suspended, they are not just sitting at home the whole time.
Suspension creates an added stress on working parents who do not have the option to stay home just because their child got in trouble at school. There should be alternatives (i.e. work ethics and labor).
Troubled kids need to be talked to in order to see what is wrong and if there is an underlying cause. Intervention is needed, even in these young stages. Adults need to listen to kids because they will likely tell adults what is wrong, even if it is not in a clear way.
Prevention services are needed so kids will know the consequences of their bad choices beforehand. This should be more interactive than students just saying "yes, sir," etc. These kids need to know who and what law enforcement is, and all the different roles in the justice system.
Why schools are suspending kids is the bigger question. We need to address this question and train adults on the issues.
Schools need mentors, and these can be teachers or older kids. Students always want people they can go to when they need help before the issue gets out of hand or is past the point of having a solution.
All teachers should be trained on how to relate to students and address problems with them.
A good go-to when it comes to interacting with children is to listen and give advice.
Teachers need to tell kids about themselves, their experience and mistakes, where they came from and how they got to where they are now, so students can humanize and relate to their teachers.
Cultural advice is essential for advancement. Kids need honest conversations about life experiences, careers and the different options available to them. These conversations will show there is more to life than they know. This should be more than just a career fair, but new experiences (i.e internships, job shadowing, etc. ).
School should be a space to learn in various ways. From physical activities, independent life skills, social skills which tell us "how" to think or act to how to properly communicate, etc.
Testing is unfair. Kids can do well in their classes all year until they are tested on things they have not been taught, and yet they have to pass these tests in order to graduate or move to the next grade. Some people are simply not good test-takers, or sometimes the teacher does not know how to teach proper test skills, and kids miss out because of it.
Cycles of destruction can include behavioral issues.
Tests should be culturally based. Current testing is harmful, and kids are not passing. This means seniors are unprepared going into college, and are then placed in remedial classes.
Establish a time for creativity and communication between students.
Sports can be a safe outlet for students, but they can also hinder their studies because the focus is no longer on academics. If school systems are not careful, athletics can get in the way of students' studies, especially at a high-school level.
Parent involvement gets lower the higher the grade level their student is; it is very high in elementary, yet seems nonexistent in high school.
Kids can become trapped in the system as early as elementary and middle school; they go to alternative school, the juvenile justice system and then most likely prison. At this point, they have seemingly reached the point of no return
Childhood Trauma
How can we help with childhood trauma? 
Family should be seen as a core unit.
Is there a difference in single-parent homes and two-parent homes?
Help should be provided for any trauma situations, so children have some form of stability in their lives.
Kids need to be more socially involved to provide an escape outlet, such as sports, extra curricular activities and mentorships.
How should teachers approach or help with child traumas?
Teachers should be able to identify issues.
Provide the students with a way to express their issues in writing (counseling and timing).
Know the healing process.
Teach children the ability to accept the issues and normalize getting help.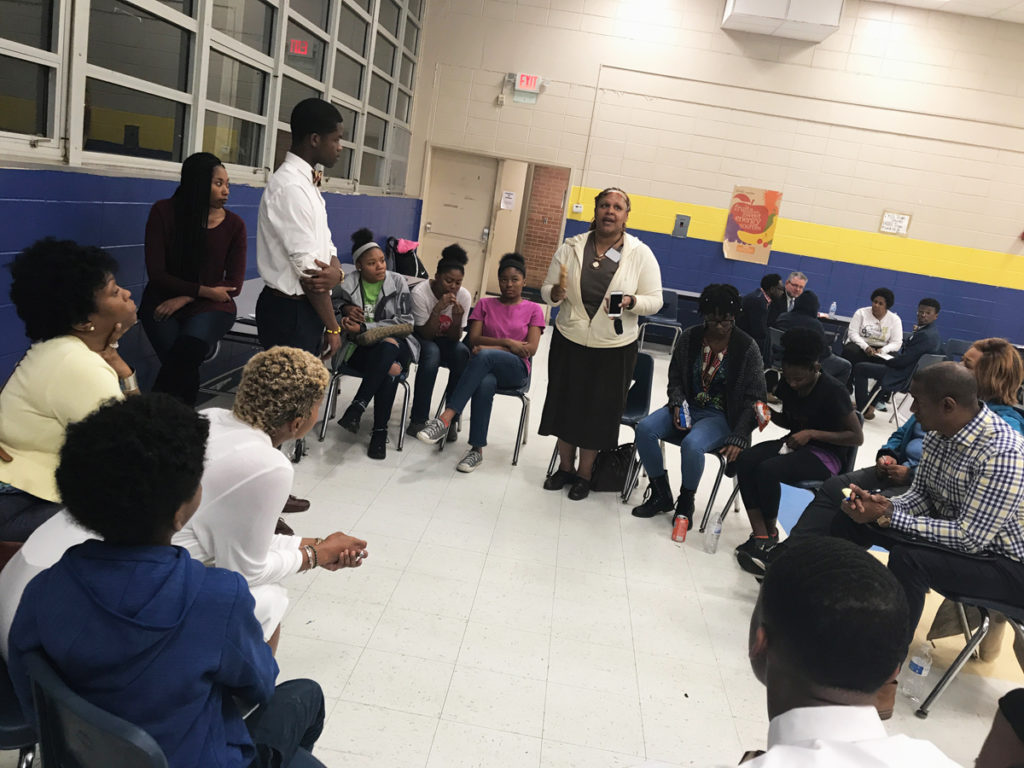 Overcome Negative Peer Pressure
How can young people overcome negative peer pressure and environments?
First, why does this peer pressure exist?
Society pressures them to own material goods.
Society pushes a certain point of view on what it means to be a man or a woman, and often limits these views to just these two genders.
Not having a good foundation at home or a lack of community support and involvement can make it easier to fall into peer pressure.
Solutions?
Better funding for extracurricular activities and less exclusivity in these clubs.
More exposure to organizations where teens are currently doing positive things.
More positive talks in the community to address peer-pressure challenges.
Teach a more mindful use of social media to keep it as a positive method of communication.
Teach kids how to truly know themselves and be comfortable with who they are.
Create open dialogues with kids, not simply lectures. Meet them as equals.
More student-led organizations and conversations.
Active community members being available to students.
Train parents on better ways to talk to their kids.
Respect
How can young people both better respect adults and each other, as well as adults better respect young people? 
Establish a positive climate.
Provide consistent mentoring.
Create character-development programs.
Let students know we care.
Find a way for older students to pass down knowledge.
Get kids talking in a safe environment.
Provide gender training.
Kids can tell the difference between those who really listen and those who listen simply to respond.
Being a good role model is being flawed and transparent.
Have community events.
Bring students to you (school and community events) and get to know them.
Interactions with Law Enforcement
How can interactions between young people and police improve? 
We can get the youth to go to civilian meetings to better understand the law.
Officers need to teach people of all ages how to approach one another.
Officers need to keep a relatable relationship with everyone. Do not have a bias mindset based off of someone's location.
Have more youth-led groups to give teens drive and structure.(i.e. JROTC, Kappa League and YMP, etc.).
Reach out with knowledge to spread it and influence others to do right.
Community get together: a day just to be with everyone and enjoy each other.
How can ppolice better show respect of young people?
Police need to have out-of-uniform interactions.
More information on budget expenditures.
More training on engagement.
Mentorship
How does a young person find a mentor?
Through communication, which should be brought up in schools.
Mentors sometimes do not know they are mentors.
Young people often run away from challenges.
How to get students involved who typically do not participate.
Schools should get more involved in life skills, rather than just test and grade their students.
Interacting with new people other than those students constantly engage with (i.e. coaches, teachers, parents, etc.).
There are limited opportunities.
For more information on the town-hall dialogues, email info@youthmediaproject.com or call 601-362-6121 ext. 15 or 601-863-5568. YMP thanks the following sponsors of past and upcoming YMP Crime Town Halls: One Voice, the Kappa League, the Jackson Council PTA, the Jackson Free Press and the Boys & Girls Club.